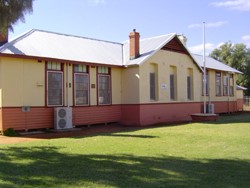 Built over 100 years ago, the stone room (1900) was extended with a room added from Lennonville school (built 1898 closed 1924), with further rooms added 1940 and 1960. The historic school building was transformed into a central community hub after the primary school amalgamated with the secondary school in 1990. The library is located in Mount Magnet's historic school building, on the corner of Attwood and Naughton Streets (behind Federation Park, across from the Shire Office), the Library provides an opportunity for locals and travellers alike to enjoy items of choice, be it a good book, DVD or an audio CD.
The library has a range of fiction and non-fiction books as well as ebooks, large print books, dvds and videos all available for loan. If we don't have what you're looking for on the shelves, please ask as we can order items from the State Library collection.
If you have any queries please contact the Library Officer on 9963 4480 or email library@mtmagnet.wa.gov.au
The Library is open Tues – Fri 12.30pm to 4pm
Open your child's imagination – open a book
Travelling with children? Want to keep them reading? The Mount Magnet Library offers a treat for all children interested in books. So, whether you live in the community or are travelling – why not bring your children in an read them a story from one of the many children's books, or allow them time to discover a book themselves.
We have a good range of second-hand books available, so feel free to swap or buy.
Swap or Buy
We have a good range of second-hand books available, so feel free to swap or buy
Public Computer Access
We offer internet access, printing, scanning and copying. Fees apply.
Become a Member today
Membership is free and provides free access to Kanopy and BorrowBox.
Kanopy
Is here!
On-demand streaming service of up to 30,000 films through our Library. Limits per month will apply.
Become a member at Mount Magnet Public Library and find out how!
BorrowBox
BorrowBox offers a range of downloadable e-audio books for your listening preference.
The collection includes a range of fiction and non-fiction titles from all genres and caters to all ages.
If you are currently a member of the library you can access BorrowBox via the link below
BorrowBox or via the app, which can be downloaded from the Apple App store or Google Play store if on an Android phone.
To log into BorrowBox, you will simply use the barcode number provided to you by the library and enter the PIN/Password which is the last four numbers of the barcode number.
Interested? Come to the library and register now.
eSmart Library
The Mount Magnet Public Library is currently in the process of becoming an accredited eSmart Library, with aims of working with the community, schools and local organisations.
eSmart Libraries aims to help library users gain the knowledge and awareness of cyber safety and provide the tools and skills they need for smart, safe and responsible use of technology.
Please contact or visit the Library if you wish to discuss available literature or training.
Alternatively visit the eSmart website by clicking here
Inter Library Loans from State Library of WA.
Favourite author not on the shelf! Let us source books for you through our VDX system. Conditions apply.
Local History
We have a Local History section for those interested in Family Ancestry and the history of the area.
Some more links for you to explore